Pure Wilderness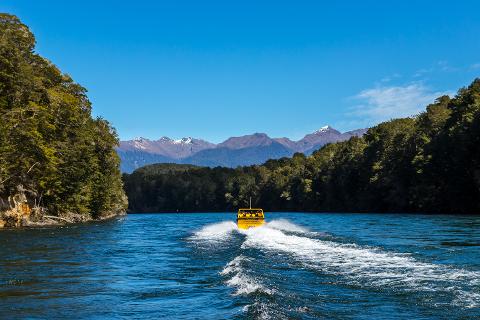 Duration: 90 Minutes (approx.)
Location: Te Anau, Southland
Product code: PBPFE3
Enjoy the thrill of jet boating down the majestic trout filled Waiau
River, to the serene Lake Manapouri, step foot on the Kepler Track and
learn all about the unique location that is Fiordland National Park.

Your journey begins with an exhilarating jet boat ride down the Waiau
river. A picturesque spot, the Waiau river is lined by ancient beech
tree forest and is the Anduin River; the great river of Middle Earth!
Featured in the opening scene from The Lord of the Rings! Get the
inside-story on The Lord of the Rings filming locations, and the crazy
logistics involved in filming.
Experience the thrill and excitement as you cruise down the powerful,
surging, Waiau River. Stop in some quiet and tranquil spots, to soak up
the amazing surrounds, and learn about the unique environment and
fascinating history.

Suddenly find yourself out on the breath-taking Lake Manapouri.
Surrounded by mountains that have been carved by snow and ice over
centuries; experience a sense of wonderment as you gaze at the
magnificent mountains and sit in awe of their sheer beauty.
Get a taste of adventure as you step onto the Kepler Track, with your
Fiordland Jet guide. Learn about the unique flora and fauna of the
area. Step back in time as you experience prehistoric crown ferns and
ancient, native beech forest, unchanged for 80 million years! Learn
about indigenous Māori culture and the early pioneers of European
history in New Zealand.
Allow over 90 minutes to experience the thrill of Jet boating down
Waiau River, to majestic Lake Manapouri, and to set foot on the Kepler
Track, into the ancient forest that is Fiordland National Park. Includes
Te Anau Return.

Book now to secure your spot and experience one of New Zealand's most
exciting and unique experiences of an untouched wilderness!